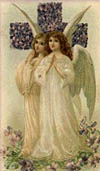 Gloria is with her Lord
Gloria died at 1:30 a.m. on June 29, 1999
On the 26th, Allen had written that Gloria's nurse asked him to call all their friends and ask them to pray for Gloria, because she was coughing up blood clots. A couple weeks before that, Gloria's doctor had told her, "Good news–bad news: The good, the leukemia is gone; the bad, you have an infection." Since then, Gloria had been fighting a lung infection. It had been hard for her to breathe toward the last, Allen said. The doctors had said that Gloria's immune system was coming back but that, if God didn't intervene, it could be too-little too-late. God had answered prayer for the leukemia and we were all believing that Gloria would receive a second touch from God.
A second touch...like Jesus had given the blind man who could see men as trees walking after He had touched him the first time. A second touch had given the man clear vision. We all expected God to do the same for Gloria.
Complete health and a return to home. That's what I [Jackie Dykstra Engle] wanted for Gloria. But the home she returned to is Heaven, where there is no sickness—on the day of my deceased son's birthday. As Gloria's husband Allen wrote, she is in the arms of God: Gloria went into the arms of God this morning about 1:30 a.m. The funeral will be Friday [July 2, 1999] at 11:00 a.m., at West Locke Wesleyan Church.
Gloria's husband Allen called me the morning of the 29th with the sad news. Gloria had gone through so much, the leukemia was gone, and her immune system had been coming back to normal, but then the lung infection started, she started coughing up blood clots, and had so much trouble breathing, especially toward the last hour of her life. Then, the nurses told Allen, Gloria was "unresponsive" and, then, she died.
I think of how Gloria had written me when we were teenagers about her 12-year old sister Nancy's passing, when I was in Alaska with my parents. Gloria's whole letter had been quotes from the Bible, from passages like "Death has been swallowed up in victory". That's how I feel now. Gloria endured so much pain and discomfort the past almost-4 months, and now she is at Peace with her Lord. She has Abundant Life, now: no pain, no tears, Joy that we cannot even imagine. "Death" is always better for the Christian experiencing it, than it is for the one who has to let go and say Good Bye.
Gloria wrote me the following letter when her sister Nancy died in 1962:
Blessed be God, even the Father of our Lord Jesus Christ, the Father of mercies, and the God of all comfort.
Who comforteth us in all our tribulation, that we may be able to comfort them which are in any trouble, by the comfort wherewith we ourselves are comforted of God. (II Corinthians 6:1).
O death, where is thy sting? O grave, where is thy victory? The sting of death is sin; and the strength of sin is the law.
Therefore, my beloved brethren, be ye steadfast, unmoveable, always abounding in the work of the Lord, forasmuch as ye know that your labour is not in vain in the Lord. (I Cor. 15).
Nan has been called out of this life to be with the Lord.
My mother is going to write a letter she can send out to everyone. It will tell all about what happened.
Love in Christ,
Glory

And this is the letter we received from Gloria's parents about Nancy's passing:
"He is not here, for He is risen, as He said."
April 19, 1962

Our Dear Friends,

You didn't hear from us last Christmas, so we are sending you a special Easter Greeting –

"I am He that liveth and was dead; and, behold, I am alive forever." Rev. 1:18.

EASTER HAS A NEW AND GLORIOUSLY PERSONAL MEANING TO US THIS YEAR!

How starless the night of death would be but for the Saviour's triumph over death. Because He lives, we too can live radiantly and victoriously in this life and shall live eternally in the life to come!

Since our precious 12-year-old slipped away from us to be with the Lord, our hearts are broken, to be sure – but in our sorrow we are comforted and sustained in knowing we shall be with her again. Because He has promised to those who put their trust in Him that "Where I am there ye may be also."

Nancy's death was a complete shock to us because she was as healthy a child as could be found. She had been "our little boy", playing football and other vigorous sports. Her scrapbook holds a number of blue ribbons for varied activities – and last summer several times, it was her home run that won the game for our neighborhood team. — So, when she seemed to have the stomach flu we weren't too concerned, as there was quite a bit of it around. Monday she threw up, but felt like eating breakfast afterwards. She spent the day reading and studying and playing with the 4 little children we care for. Tuesday was about the same and she even sat at the dinner table with us and read along with us in our family devotions. Wednesday a.m. she wanted to return to school so much, but we felt it best if she would have one good day at home before she went back. In the forenoon she began to throw up again, so we called our doctor. He was in Florida, so his nurse said Nancy probably needed an antibiotic, and gave me another doctor to call. The nurse there suggested giving her 7-Up to settle her stomach – but about 4:00 Nan said her side hurt her when she breathed. When Bill returned from work, he noticed her color wasn't good, so we called and asked the doctor to come to the house. But she so suddenly took a turn for the worse that we rushed her to the hospital instead. They immediately gave her oxygen and 2 shots for pain, and ran all kinds of tests – and called in a specialist. As soon as Dr. Bates saw her, he diagnosed it as acute diabetes, but assured us he most likely would not have been able to tell what it was if she'd been brought in any sooner. He started IV feedings in both arms and said she would probably be back in school by Monday. Nancy asked, "Who will feed Snoozie?" (her closest playmate since she was a toddler). And when the pain in her lungs got bad she said, "Pray, Mama, Pray." Her daddy stayed beside her, holding her hand until it made him sick to see her suffering so. Then he sat just outside her door and talked to the Lord. He told us later that he knew God was calling her home.

Nancy's breathing was extremely labored, and Dr. Bates told us when she began breathing normally again we would know we had it licked. He was so good to her, and stayed with us until about 2:30 a.m., then left orders to be called every two hours. But about half an hour later, Nancy just stopped breathing. Everyone tried so hard to save her and worked for about an hour, but we knew her spirit had flown. Our dear Pastor Nicholson came and prayed with us and waited until the doctor came out to talk with us.

We dragged home about 4 a.m. and didn't want to waken the girls yet, so we read a poem that had come in the Decision magazine that day — "Should I Ask You Back?" and remembered that it had meant so much to some dear friends who had lost their baby daughter. Completely resigned that our God was working out His perfect will, we tried to rest till Gloria and Linda awakened. You can imagine the heartbreaking experience of telling them and Grandma Foster ... But in it all – each one manifested that hope only a Christian has – that Nancy was much better off.

We miss her desperately – She was at that glorious age when one day she would climb to the top of the tree, or jump off the garage roof ... and the next evening she would wear a little make-up and nylons and be so grown up! She had just picked out a lovely blue dress with ruffles around the neck and sleeves and down the front, which she wore once – to the Sat. nite YFC Rally – before we laid her to rest in it just four weeks ago. The one thing I never thought I could possibly stand was at the cemetery – but God gave such complete assurance that our darling was not in that casket – she was definitely in His Presence (Absent from the body – present with the Lord.).

We pray that your hearts will rejoice along with ours in the personal message of Easter!

Would love to hear from you!
With our love,
Bill & Liz, Gloria & Linda

Thank you for all of your prayers on Gloria's and her family's behalf. We cannot know what God's plan had been or how Gloria's stay in the hospital and her faith in God worked "for good" in this situation. But God knows.
When Gloria's husband Allen wrote that "Gloria went into the arms of God", he was referring to the poem below that Ann had e-mailed to us one month before:
I REFUSE TO BE DISCOURAGED

I refuse to be discouraged, To be sad, or to cry.
I refuse to be downhearted, and here's the reason why...
I have a God who's mighty, Who's sovereign and supreme.
I have a God who loves me, and I am on His team.

He is all wise and powerful. Jesus is His name.
Though everything is changeable, My God remains the same.
My God knows all that's happening. Beginning to the end,
His presence is my comfort. He is my dearest friend.

When sickness comes to weaken me, To bring my head down low,
I call upon my mighty God; Into His arms I go.
When circumstances threaten to rob me from my peace,
He draws me close unto His breast Where all my strivings cease.

And when my heart melts within me and weakness takes control,
He gathers me into His arms And soothes my heart and soul.
The great "I AM" is with me; My life is in His hand.
The "Son of the Lord" is my hope; It's in His strength I stand.

I refuse to be defeated, My eyes are on my God;
He has promised to be with me, as through this life I trod.
I'm looking past all my circumstances, To Heaven's throne above;
My prayers have reached the heart of God, I'm resting in His love.

I give God thanks in everything, My eyes are on His face;
The battle's His, the victory's mine. He'll help me win the race.


"I can endure all things through Christ which strengtheneth me."
Gloria was diagnosed and hospitalized for AML (leukemia) on March 6, 1999, and went to be with the Lord, while still at the hospital, on June 29, 1999.



"Welcome home, thou good and faithful servant."
"This is my beloved daughter in whom I am well pleased."
"She is not here. She is risen."



"Those who live in the Lord never see each other for the last time." ...FTD